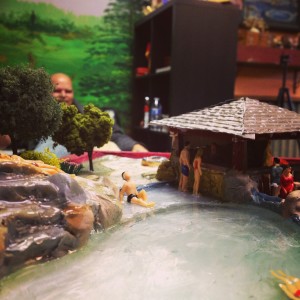 How do I describe the Pool Guy, Allan Curtis?
Well it would take years to hit every bullet point about this wonderful inspiring man.
Al is the Project Manager and Lead Designer for Legendary Escapes and the face of Ask the Pool Guy. When on the job, Al gets things done in a fun way. He treats everyone like he treats his own children that work for him. When a task is accomplished well he begins praising them and makes them feel as if the job wouldn't get done without them. This is one of the little things Al does. When talking in meetings, Al will bring up how important all of the staff is. From those that work in the office to the ones that work in the field. He shows us we truly make a difference by being a part of this company. I think that is what makes him so different from any other employer. To have not only your accomplishments broadcasted, but also to be told in a considerate manner your flaws in the job you have done is also very satisfying. To know that he finds it acceptable to make mistakes and not beat you down for it is one of the reasons I work here. I don't want to be told just what I'm doing wrong, I want to be told how to fix it, how I can improve, and to learn new ways to do what I am doing.
Al does what he does because he loves it, it gives him the creative freedom he desires and the lasting bonds with the homeowners is what he really enjoys!
-Hannah