Discount swimming pools
Some people may do a search on the internet for discount swimming pools if they want to find out what some affordable options for backyard pools may be. If you want to build a swimming pool, Michigan Swimming Pool Services can help. We work with an award winning team of designers and builders. Homeowners can choose a vinyl liner pool, or gunite pool to fill their backyard with a fun and enjoyable water feature for family enjoyment.
The price range of pools can vary, with some of the above ground pools and inflatables being the most affordable and sometimes available locally at discount swimming pool pricing for homeowners who just want to put some water in their back yard.
When you get into the more serious inquiries into swimming pool installation, and the inground market, there are vinyl liner pools, fiberglass pools, and gunite pools. A homeowner will want to talk to the pool professionals in the area to find out which pools are best suited for the conditions. A cheap or discount pool in any of the types of pools is not going to be the best. The pool should be suited to the application, the ground conditions, and the seasonal cycles of the area where it is going to be installed.
When you meet with a pool designer, here are a few things you should ask yourself as you decide that you would like to build a swimming pool. You should indicate 1. What do you expect the pool to look like? 2. How are you going to use the pool? 3. How do you entertain around your pool?
Once these three questions are answered your pool can be designed and the costs can be provided so you can make an educated decision about how much to spend on your pool, and not just look for a discount on your swimming pool.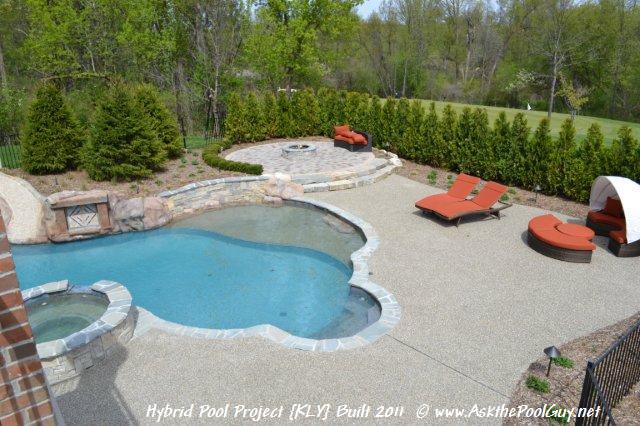 For your appointment with our pool designer you will want to have a plot plan or mortgage survey available. This will help in determining pool placement and any considerations regarding location that will need to be made. You will also want to check your homeowner association by-laws regarding the requirements for installation of any pool or fencing, and have the information for the contact person if needed for approval.
Final pool pricing is subject to your particular yard and accessibility conditions, and any additional retaining walls or site prep work that will be necessary, or any upgrades or changes that you request specific to your pool.
Michigan Swimming Pool Services LLC answers that need. Staffed with a unique call center, the first of it's type in the industry, all service requests are handled in an efficient way, matching the best area service professional with the homeowner to provide the swimming pool maintenance, service, or other answers quickly and efficiently.
We offer is one stop scheduling, troubleshooting, answers to questions, and guidance if you are a homeowner in Michigan.
If you'd like to schedule a new pool consultation, and learn why discount swimming pools are not the best option, please call our Scheduling Hotline: 248-478-4978