Mursatt Chemicals Ltd.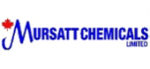 Mursatt Chemicals Ltd., a manufacturer/distributor of quality pool and spa chemicals, accessories as well as water testing products has been serving the "Pool and Spa Professional" marketplace throughout Canada for more than thirty years.
Mursatt Chemicals continues to be a strong force in the Canadian pool/spa industry because we care about our customers business. We recognize that a strong pool/spa dealer – consumer relationship is the key to success for any "Pool and Spa Professional", and if our customer is successful than we are successful.
All aspects of our marketing efforts are directed toward providing "Pool and Spa Professionals" with the products, services and training required to create and sustain a successful business.
Listed below are a few of the marketing and training initiatives we provide for "Authorized" Mursatt dealers.