Northeastern Swimming Pool Distributor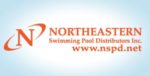 OUR MISSION: To create strong relationships with our suppliers, enabling us to provide excellent customer service and encouraging the growth of the industry.
WHO WE ARE:
We are one of the largest swimming pool distributors in Canada. Committed to quality service with a personal touch, Northeastern has developed a reputation for caring about our process and our customers. Relationships are key to us, with both customers and suppliers.
We provide a full range of pool products from the top industry leaders, including Jacuzzi, Pentair, Zodiac and Raypak. We also offer exclusive Canadian distribution rights on a custom steel and vinyl series by Megna Pool Products, branded under the highly marketable VIDA series.
Innovation is important to us so we make a point of introducing new and innovative pool products annually, making us trend setters in the marketplace. We want to make sure you're armed with all the information you need when you see a customer.
We will go the extra mile to make sure YOU are successful!