Finishes

Gold Eagle Co. manufactures 303® Branded products which include 10 premier-quality products offering UV screening and protective treatments, finishes and specialized cleaners for rubber, vinyl, plastics, textiles and finished leathers.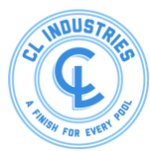 CL Industries is the world leader in exposed aggregate pool finishes, deck coatings and building materials for the commercial and residential pool industry.
Lightstreams Glass Tile is a U.S. manufacturer noted for its leading edge design and high quality glass tiles which are popular for pool tile, waterline tile, water feature tile, and accent tiles for pool step markers.