Fireplace
Fireplace & Patio Design has over 25 years of experience installing and creating a variety of fireplace and patio designs. From fire pits to outdoor grill islands, our staff is there with you every step of the way during the design and execution process. Visit our website today to learn how we can help you get started on your next outdoor project.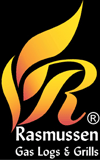 Rasmussen Logs and Solaire Infrared Grills manufactured in Whittier, CA. 104 years old. Rasmussen is a four-generation family business that manufacturers Vented Gas Log Sets, ALTERNA® Contemporary Gas Fires, Chillbuster® Vent-free Gas Log Sets and Solaire® Infrared Grilling Systems.Bromic Infrared Patio Heater, Gas and Electric.
The creation of outdoor living spaces and the introduction of fire to create ambiance and comfort is one of the fastest growing trends today.