excel filter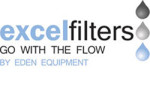 Are you tired of lifting and cleaning the System:3® cartridges? Excel Filters offers an alternative. The System:3® Retro-fit Kit replaces the OEM cartridges and you can keep your EXISTING vessel!
• ONE manifold.
• TWO seconds to install or remove for cleaning.
• THREE easy-to-use cartridges providing the same square footage as the original OEM filter cartridges.
Two sizes available – 300 and 450 sq. ft.
Stop by booth #000 to learn more and see our show special.
For more information: www.excelfilters.com