fireplace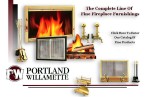 Portland Willamette has be making fine fireplace furnishings for over 70 years and is known for making the highest quality product in the hearth industry.
Portland Willamette is now taking this dedication to quality and applying it to a new, one of a kind, product for the patio and backyard.
The creation of outdoor living spaces and the introduction of fire to create ambiance and comfort is one of the fastest growing trends today.