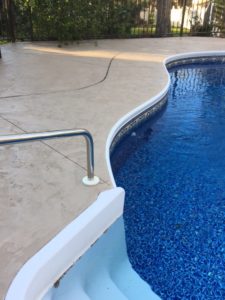 Vinyl liners are very popular for swimming pools. They are typically inexpensive and easy to care for. However, once in a while they need to replaced, repaired or renovated. A vinyl liner swimming pool renovation can include something as easy as a liner replacement, or it could involve changing the coping liner track style or repairing the bottom of the pool.
Replacing your liner can breathe new life into your pool. It's an easy way to "make over" or update your outdoor space. Prices will vary depending on your exact pool conditions and specifications. Liners are available in 20mil or 30mil thickness. During a typical liner replacement you can expect:
Removal an disposal of old liner
Minor patching to hard-bottom
Installation of new liner
Replacement of gaskets and face plates
Cut in the liner
Fill the pool with water
Balance water chemistry
Resume maintenance
Enjoy!
You can expect your vinyl liner (when newly installed) to last up to 20 years, average time is 10-12 years. The longevity and quality of your liner will depend on the care of the liner, attention to water chemistry, and the pool environment. As pool liners age you will notice them becoming older and more susceptible to tearing.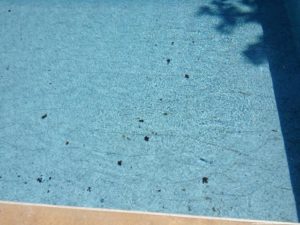 Another issue that presents itself in vinyl is pH wrinkles. They are small wrinkles covering either a small part or even the entire surface of the pool walls or floor. They are caused when the water chemistry is not maintained in the proper balance. There is no way to repair or remove them- your only option would be to replace the entire liner. Vinyl pool liners are just an aesthetic issue. If they don't bother you, it will not make a difference in your pool longevity or function.
Kafko Mfg. provides a nice variety of vinyl liners, check out their selection here.