Al at Ask the Pool Guy was once given the opportunity from a client to create a vinyl liner pool with deck chairs and a swim-up bar. His solution: a vinyl/gunite hybrid. With hybrid pools Al can challenge the boundaries of what customers expect and give them a life-enhancing addition to their home.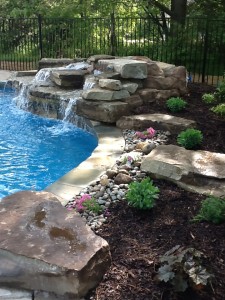 Hybrid pools are born from a response to a growing trend. Customers are wanting to be involved in the design of their pool to fit their specific lifestyle and design. Hybrid pools are all about taking the benefits of vinyl pools (comfort, ease of use, durability, weather resistant) and combining that with the custom-ability of gunite elements. Clients can now have a vinyl, easy to care for pool, with custom lounge chairs and spill-over spas because of the incorporation of vinyl.
At Ask the Pool Guy we believe it's time to ask the deeper questions to our clients about what they expect from their pool environment. Then we can take those expectations and create something not bound by the traditional pool/vinyl/pre-fabricated approach. Hybrid pools are more than a trend, this is happening as a result of customer demand and a changing market.
Have any neat examples of hybrid creations? Post your pictures!