Lighting has the power to set the scene: to completely transform the mood of an ordinary backyard to a romantic oasis, a party scene, or a tropical getaway.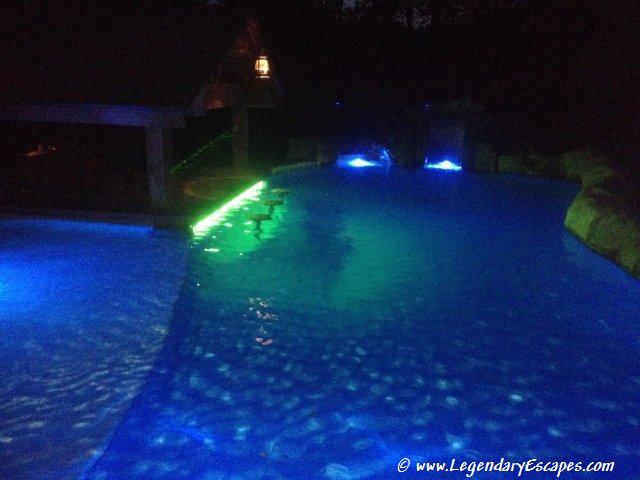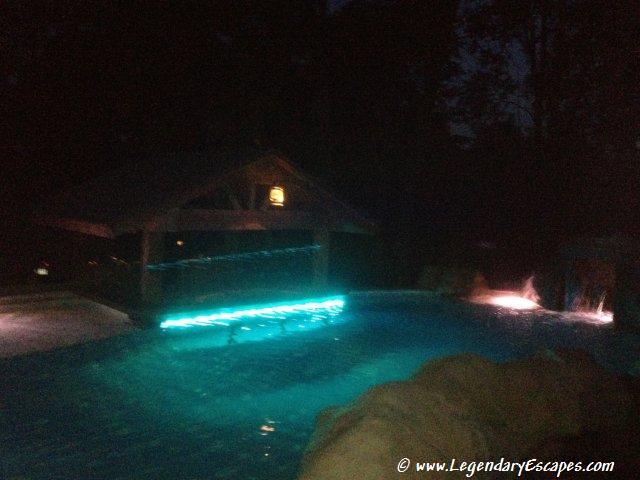 We believe your amazing landscaping should look just as good at night as it does in the day. To do this, you need proper illumination. Creatively lighting your pool and spa areas is one of the best ways to create a specific atmosphere and to encourage nighttime backyard usage. Parts of your landscape that can be accented by lighting are: plant textures, tree silhouettes, pool contours, and various colors.
Pool lighting is great way to add drama to your backyard. Most pool lighting is surface mounted lights. They enhance your design by drawing the eye deep beneath the waterline. They work well with enhancing special features like steps, wet edges, and especially mosaic tiles and water features. Surface mounted lights are the most economical because one or two lights are typically all that's required.
If you want a more subtle form of lighting, flush mounted lights (or recessed) are now a popular lighting choice for those wanting a more contemporary feel. These lights sit evenly with the pool wall and create a stylish and modern finish.
Another lighting option is flush mounted lights. They can be positioned on pool surfaces, along the seats, underneath water features or even near beach entry areas. Flush mounted lights provide both form and function. They are a helpful safety feature because they can let guests see where changes in levels occur. Simultaneously, they look stunning under the water and create a fun atmosphere.
Interested in a more economical lighting source? Consider LED lights for your backyard and pool. There are flush mounted LED lights for vibrant pool illumination. They use around 15 watts of energy and have an extremely long lifespan. This will save you money and maintenance time. Most of them come with various color settings. LED lights use the same technology as fiber optics. They have a spinning color wheel which allows you to choose from a variety of colors. There is also no electricity near the actual fitting, which is an added safety feature.
Key Terms:
External Features
Durable Niche Housing: constructed from injection molded ABS
Slotted Rims: helps heat dissipation and permits water circulation
Large Rebar Tie-backs: to simplify installation
Innovative Polycarbonate Lens: these cool the LED's and provide an even distribution of light
Internal Features
Precision Built: made of a precision built printed circuit board (totally enclosed in a waterproof housing)
Extra Slim Protrusion: projects 11mm from the pool wall
Extra Space: used for easy coiling and storage of light's power cords
Energy Saving: uses less energy while emitting light
Long Life: (for LED's specifically) has a lifespan of over 70,000 hours
Built-in Heat Management: heat output is automatically managed by electronic circuitry
Triple Seal Connection: three rings in place to 'triple seal' the light fixture and eliminating the possibility of leakage to the power cord
Warranty: many lighting fixtures are protected under warranty for a specific amount of time
For fun, try adding some leftover Christmas lights of any color to your backyard. This will add some flair to any evening or night function.
What's your favorite type of outdoor/pool lighting? Leave a comment and let us know!