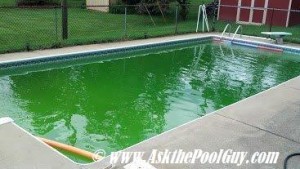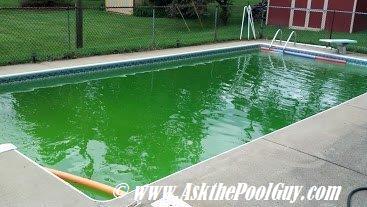 Get your pool back in shape for spring

There is nothing worse then uncovering your pool for the first time and discovering it to be green and unappealing looking. It's a common problem that occurs before spring but there is a solution.
Coming into spring, our pool technicians often report they are treating pools that have turned green over the cold, winter months.
Often in the spring, when the weather warms up and the sun hits the pool water, it reacts with the algae, which can quickly bloom out of control.
Safety Cover Pools
Before you Open: In the spring, as soon as the pool thaws add liquid chlorine under one corner of your safety cover.
Cleaning the Green Monster
Observe chlorine levels. Pools with levels below 0.5ppm need to be 'shocked' with a large dosage of chlorine until levels reach 10ppm. Check the filters to make sure they are running and do not swim until the chlorine level falls back below 3ppm.
Lower the pH levels. Add acid (i.e. a copper treatment) to water to kill spores. Try to reach a pH level between 7 and 7.6. Keep in mind that heavy rain, swimming, and animals in the pool can also increase pH levels.
Use algaecide to kill algae.
Clean pool walls to remove algae. Vacuum loose algae from pool the following day.
Check your filter often. Pool water needs to be continuously filtered, and this will not be achieved if the filter is not working properly. Shocking the pool is useless to do if you do not have a properly working pool filter. Any Swimart technician can check your pool's filter to make sure it is in good working order.
Maintenance Tips for the Spring and Summer Seasons
Regularly check pH levels
Run the filter 10-12 hours a day at least, often 24 hours a day is perfect!
Check sanitizer levels daily
Check the Total Alkalinity (TA) weekly
Check skimmer basket each week as well as hair and lint pot
Clean the pool thoroughly and vacuum
Check the pump and get a full pool equipment service by a licensed technician
Check for leaks
Check your filter and make sure to switch the running mode from winter to summer
As always, if you are not sure how to do these things or do not wish to, contact your local pool professional to get on a weekly or bi-weekly maintenance schedule.