Pool plumbing and valving can be confusing- especially for those with no plumbing history or training. This article is for those who wish to better understand their pool's plumbing and valving. There are pool owners who wish to be un-involved with that process- and if you are one of those owners, we recommend you contact us at Ask the Pool Guy and we can do the hard work for you.
If your pool was built before the mid-eighties, it may have some plumbing and valves that are considered "old school" or obsolete. Our feeling with all pool equipment and plumbing is that if it safe to operate, and isn't broken, there is no need to replace. However, if you have old gate valves, or any plumbing that is over-complicated, inefficient or subject to creating "dead-heading" it is something you need to have fixed.
If it is time to modernize your plumbing and valving, here are a few things to consider.
The Jandy Valve was a new product introduced after the eighties and it revolutionized pool plumbing with its unique three-way valve. It created a consolidation of multiple leaky valves into one simple operation. This helps to reduce the number of valves and also prevents pipes from going every which way.
Jandy Valves, as mentioned above, should be lubed every year. Push-Pull valves should also be lubed every year.  We recommend Teflon based lube for Jandy Valves and Silicone based lube on Push-Pull Valve o rings. The o rings are lubricated by simply removing the plunger from the valve body. You need to lube them heavily and re-insert them. Jandy Valves have grease caps that can be filled with lube. Also, the 8 screws can be removed.
Having trouble with backwash valve leaking?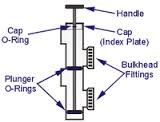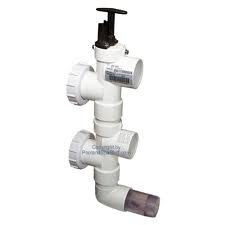 Push-Pull valves have a port on them where backwash water likes to settle. These valves are used on sand and DE filters. If you experience a leaking push-pull valve (aka 'slide valve'), you most likely need to replace an 0-ring on the plunger. If your multiport valve is leaking out the waste port, then you might need a spider gasket replacement. Shut off your pump first, then try moving the valve handle slightly. This may reset the gasket or flush out the debris. Sometimes it's as simple as jiggling the handle. Eventually you will need to replace the gasket or even the entire valve. If your multiport valve is leaking from the valve handle not the waste line, this most likely means you will need to replace the spring or Teflon washer.
Is air getting into your system?
Small leaks in underground suction piping can be annoying. It most likely occurred due to a loss of pressure and air being drawn in where water should be flowing. If your pool was built with 'black poly' piping or flexible PVC underground, you will most likely experience these problems. Usually the air leak is something that can be easily fixed above ground.
Your pump is meant to operate free of air. After being in use for a while, you might begin to notice air in the basket. The air can reduce filtering efficiency. The problem is usually located around the pump, above ground. This makes for a simple fix. Oftentimes the pump lid or the pump drain gets plugged.  Sometimes air in the pump basket is caused by something simple-your water level being too low. Sometimes the skimmer weir can get stuck (the plastic flap at the throat of the skimmer). If this gets stuck, it can cause the skimmer to drain and take in air. Be sure to check that all plugs are tight.
Here is a trick to locate air leaks- shut off the motor when it's under full pumping head pressure. Look for water to spray back. It will spray from the void where the air was entering. You will have to be quick in order to catch this spray back. When you find the void, patch it with epoxy putty or silicone. Sometimes replacement parts will be necessary.
By putting your plumbing under pressure, you will be able to locate the leaks and make appropriate repairs. Try purchasing a product like Drain King at your local hardware store. You use this product by connecting it to a garden hose. It puts the line under pressure. If you insert it into the skimmer, you can turn on the hose and pressurize the line backwards. This is great for cleaning clogged pipes! Remove the pump lid and use a plug at the pump entrance. This allows pressure to build in the line and escape, or 'squirt', out the leak. Many of these leaks can be repaired with a pool putty, but they will eventually need to be replaced.
Is your pool losing water?
Observe when your pool is losing water. Is it losing water only when the pump is on? Then the leak is probably on the pressure side. The 'leak detection' process pinpoints the area under suspicion. You will then know where to make the appropriate repairs. If the pool is only losing water when the pump is off, look towards the suction side. If your pool leaks all the time, then unfortunately it could be anywhere. It is important to repair these leaks to prevent erosion of the earth that may be supporting key areas of the pool. Pool leaks can also waste several hundred gallons of your filtered and treated water- that's a waste of resources and of money!
Call us at Ask the Pool Guy if you would like help with your pool plumbing or valves!