The Pool Guy's favorite automation system is the EasyTouch system that works with the Pentair equipment. You will find this system on all of our new swimming pool projects – either the pool only or the pool and spa combo.
The best way to learn your new automation system is to get into the programming menus and see what happens when you start to schedule and push buttons. For those of you who would like a quick reference guide, download the
Easy Touch Owners Manual Here
EasyTouch Indoor Controller Manual
Automation systems are often paired with Salt Chlorine Generators – in this case the intelliChlor, and other lighting and accessory options that will make your pool experience a little more "automated." Remote control via the ScreenLogic (ipad/ipod/iphone capable) systems add ons.
ScreenLogic for iPhones/Android app control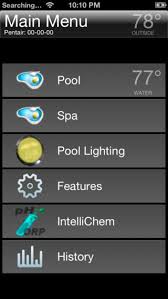 ScreenLogic Owners Manual
ScreenLogic2 Interface allows you to control the key functions of your pool and spa using the IntelliTouch and EasyTouch control systems, using controllers such as an iPad, iPhone, iPod touch Mobile Digital Device, Android Device and PC or Mac computers.
The ScreenLogic Bundle (522104) conveniently includes the iPhone/ iPad/ iPod touch Mobile Digital Device/ Android Digital Device/ PC and Mac Interface kit (520500) and the ScreenLogic Interace Wireless Connection Kit (521964).
Features
Use iPad®, iPhone®, or iPod touch® Mobile Digital Device or Android ™ Device to control pool functions from anywhere
Remotely manage from a Mac® Computer or PC using the ScreenLogic2 Interface Application
Easily change, track and monitor history of pH and ORP levels when using the IntelliChem® Chemical Control System with IntelliTouch® or EasyTouch® Automation.
ScreenLogic2 app now allows full color lighting control for both IntelliBrite® LED pool, spa, and landscape lights and MagicStream® laminars.