High Performance Eco-Friendly Heaters
New MasterTemp Heaters offer all the efficiency, convenience, and reliability features you want in a pool heater (plus a lot more). They are as easy-to-use as your home heating system Master Temp uses a user-friendly indicator light that makes operating and monitoring a piece of cake.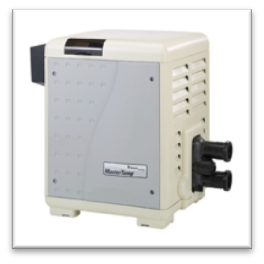 The compact design of the MasterTemp Heaters are super quiet and won't intrude on your poolside leisure time. They will just make your pool season longer and more enjoyable for you and your family.
Features
Heats up fast so no long waits before enjoying your pool or spa
Best-in-class energy efficiency
Manual gas shut-off when service is required
Eco-friendly MasterTemp is certified for low NOx emission and outperforms industry standards
Rotating digital display allows for easy viewing
Tough, rustproof exterior handles the heat and weathers the elements