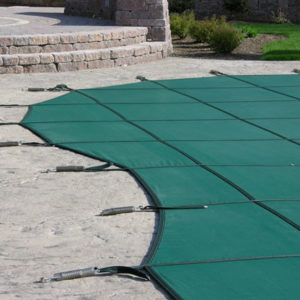 Kafko™ swimming pool safety covers are designed to protect your pool and your family. They are manufactured to exactly fit your pool size and shape. When they are properly installed, Kafko™ pool safety covers will help prevent accidental slips and falls into your pool by children and pets. This will protect your family and also your peace of mind.
What sets Kafko™ safety covers apart from the competition? Every single component of our in-ground safety covers are painstakingly engineered to be the best. We have deconstructed all of the major safety covers on the market and have built ours better and stronger than anything on the market today. We also exceed all mandatory safety cover regulations.
The Kafko™ Difference:
Solid Cover with Ease-A-Drain
1″ Polypropylene webbing
Interlocked, double overlap seams
Double Decker Edge
Coping Anti-Rub Strips
UV Resistant Material
20-Year Warranty
Heavy Duty Double-Coil Low Profile Springs, available on all solid covers
Stainless Steel, Low Profile "D-Ring" Springs, available on all mesh covers.
Exceeds ASTM Standards
Custom Non-Corrosive Hardware and Brass Anchors
A Coverstar safety cover is the strongest way to prevent children and pets from getting into your pool when you can't be there. Whether you prefer a durable mesh or solid safety cover, or an automatic safety cover that goes on and off your pool with push-button convenience, a Coverstar cover is the best protection available for your family and your pool investment!
For the Coverstar brochure click HERE.