Atlantic City Wed. 1/29/14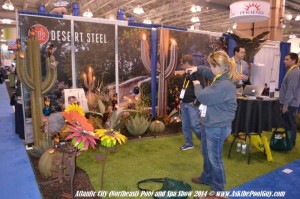 I've just returned to my motel room after walking for hours around a big convention center, crowded with people and booths full of pool filters, pumps, heaters, liners, tiles, spas, floats, toys and just about anything else you can think of associated with building, servicing, and enjoying swimming pools. Finally able to sit down, I'm able to think back and pose the question to myself, what did I gain from today, other than incredibly sore feet?
The answer is knowledge. I realize this is a general catchall, but it is the truth. My position in Ask the Pool Guy/Legendary Escapes is artistic design, so booths filled with people trying to talk to me about the filters, liners, and automatic covers they sell, is a struggle for me to pay attention to. I piece together rocks to form the coping around your pool, I also set the tile border that surrounds the interior of your pool, I help design and build water features for your pool, why do I need to know how an automatic cover works, or what's wrong with your pool when the water's cloudy? Because I work for a company that that strives to think and work outside the box. So while equipment, liners, and spas are why ninety-nine percent of the people I encountered today are here, they are outside my box, and that is why I need to be here.
Never fear, those of you who will call Ask the Pool Guy for service help, just because I'm learning about plumbing techniques, or how to install a pool cover, I will not be the one coming out to fix yours. It means I've expanded my understanding of the workings around my own, which can only help me do my work better. Knowledge, no matter how dull, is never wasted. And let me tell you, listening to someone explain how this one fitting fits into this other, bigger fitting, which then fits into this piece of equipment, which if properly connected will do this, but if not properly connected will do that, is rather boring; especially to someone whose nature it is to take that first fitting, and find creative ways to incorporate it into the pool design.
-Karen, Tile/Coping Specialist and Concrete Artisan