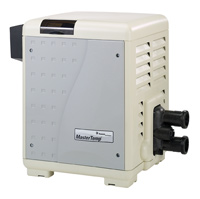 In Michigan, to enjoy your swimming pool to the fullest, a swimming pool heater is going to be necessary. A pool heater should be sized properly to heat your pool, and in some cases both your pool and spa. Pool heaters should be relatively low maintenance if installed properly. There are so many options on the market these days, that the high efficiency options are going to allow you to keep your pool warm without spending too much on your heating bills.
Ask the Pool Guy offers natural gas pool heaters, propane pool heaters, solar pool heaters and pool heat pumps.
Pool heaters are manufactured by several nationwide suppliers, some of the top names including Raypak, Jandy, Hayward and Pentair. Each heater has it's benefits and the proper applicaiton, so if you have quesitons which swimming pool heater will be the right for your pool and equipment setup, please let us know and we'll be happy to help you decide what you need. All swimming pool heaters are warranted by their manufacturers. Some heater manufacturers include:
Raypak, Jandy/ Teledyne Laars, Coates, Pentair/ Purex Parts, Hayward, Comfortzone, Sta-Rite, Anthony Pool Heater parts
Ask the Pool Guy offers a wide selection of natural gas pool heaters and propane pool heaters for both above ground and in-ground swimming pools. Heaters sold today feature advanced technology and innovative designs. Hayward Universal H-Series pool heaters come with digital LED control panels and Cupro Nickel Heat Exchangers which enhance ease-of-use and durability.
In addition to natural gas and propane pool heaters, Ask the Pool Guy can help you with your pool heat pump or solar heater (though in Michigan this may not be your best option.  A heat pump works by capturing heat from the ambient air and transferring it into the pool water. Solar pool heaters used heat from the sun's rays to raise the water temperature, so if you are considering installing this option you need the proper place to install the solar panels, and you should be aware of just how much sun you may have to utilize. A heat pump system or solar heater can be used to heat pools varying in size.
A swimming pool heater will extend your swimming pool season. The various models of pool heaters can feature high energy efficiency and more. The prices of heaters are reasonable. Ask the Pool Guy offers economical prices and long-lasting products, helping you to make smart, cost-effective investments in swimming pool equipment.