Swimming pool supplies You will want to have supplies on hand for your swimming pool. Let's start with the chemicals: STEP #1: BALANCE – Pool water must be pH balanced, with this being the first and most important step in order to insure the effectiveness of pool chemicals. STEP #2: SANITIZE – Sanitize water is bacteria-free, clean water, and safe for swimming. By using  Sanitizing Tablets or Salt/Chlorine Generating systems, they are long-lasting with stabilized effectiveness. STEP #3: SHOCK – To reduce the effects of cloudy water, chlorine odor, and eye skin irritation you need to Super-chlorination or Shocking. Even with weekly maintenance and after treatments you can swim immediately. STEP #4: ALGAE CONTROL – Prevent algae with Algaecide. This will prevent algae before it grows while keeping a crystal clear pool. Super-concentrated algaecide is so powerful it kills all types of algae.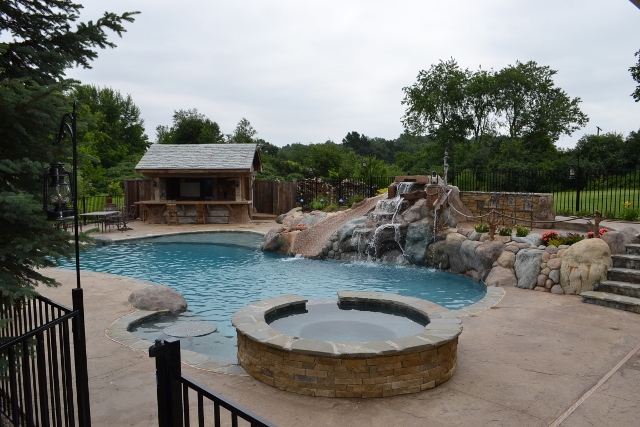 We have a large selection of Pool Covers, Pool Liners, Pool Heaters, Pool Cleaners, Pool Chemicals, Filters, Pumps and many more games, toys and accessories in stock. Salt Generators:
The Aqua Rite Chlorine Generator
The AquaRite is the easiest way for you to sanitize your pool, and keep your crystal clear and silky smooth! The AquaRite uses common salt (the same salt used in water conditioners) and converts it into "free" chlorine. The chlorine sanitizes your pool and then reverts back into salt. That's right, the salt is recycled and never wears out. With only a teaspoon of salt per gallon, the AquaRite produces enough fresh chlorine daily to keep a 40,000-gallon pool sparkling clean without the chlorine smell. You'll never again have to worry about red irritated eyes, dry itchy skin, bleached bathing suits or green hair! Michigan Swimming Pool Services online Pool Store is your source for quality swimming pool supplies at the lowest prices. Whether you're looking for equipment and accessories for your pool, hot tub or spa, we have everything you need to take care of every aspect of pool maintenance and care. We have a large inventory of swimming pool supplies and brand name products in stock so you can find exactly what you need. Our product selections include everything you need to service your pool. From chemicals to cleaners, and covers to deck furniture, you can find what you are looking for. We also have pumps, robotic cleaners, pool paint, filters, heaters or accessories, In The Swim offers the best selection and the best quality. We also offer products from the most popular and trusted brand names in the industry, including Kreepy Krauly, Hayward, Polaris and Aquaproducts. With more than 2500 items in stock and an award winning distribution center, we have swimming pool products, chemicals and equipment available for immediate purchase and fast delivery. Ask the Pool Guy's Online Store offers great brand name products, and outstanding customer service. We are dedicated to making sure your shopping experience exceeds your expectations.  We have a wide variety of pool supplies in stock and are ready to ship them to your home. Our 24 hour online ordering system allows you to place your order any time that is convenient for you. Our customer service will allow your transaction to go smoothly.