Ever dream of the day you no longer had to clean and maintain your pool? Well, the time has come. The use of Robotic pool cleaners are on the rise across the country. They are the ideal solution for any overworked pool owner who wants to spend the day enjoying their pool instead of vacuuming it.
Today's robotic pool cleaners combine user-friendly controls with water, energy, and chemical conservation features. They keep to the bottom of the pool or the walls. They are especially handy because they actually improve your water circulation. Improved water circulation can help you maintain correct water chemistry- reducing the chance of algae growth significantly.
Some advantages of robotic pool cleaners:
They are perfect for people without a lot of free time. Most robotic cleaners will clean the ENTIRE pool. This includes walls, steps, and bottom. Usually they can clean in a matter of hours. Simply place the cleaner in the pool, and it will do the rest. This will leave you more time to focus on the important things in life.
They have significant environmental benefits. With a robotic pool cleaner, you can systematically clean your swimming pool without relying on the operation of filtering equipment. This will result in a reduction in energy costs; thus saving you money. Suction cleaners need your pool's filtration system to operate at a high speed and pressure cleaners not only require your filter system, but they also require a booster pump. Clearly, a robotic pool cleaner is the least energy taxing solution out of these three cleaners.
Robotic cleaners require less maintenance. The cleaners vacuum and trap all the debris from your pool in a self-contained compartment. Because of this, you will not have to do excessive backwashing or rinsing on the pool's filter. Suction style cleaners would require this.
Robotic cleaners are total pool cleaners. These small, clever cleaners are equipped with scrubbing brushes. That means they vacuum the pool's floor and walls and they also scrub the actual surface no matter the material. This will increase the lifespan of your pool and keep it in tip-top condition for longer.
They will create clearer water for swimming. Robotic cleaners will improve your pool's water circulation, resulting in less algae growth.
We understand that swimming pool maintenance is ongoing and can be time-consuming. Robotic cleaners were invented with just that problem in mind. Pool maintenance is necessary all year long-no matter the climate in which you live. Algae and bacteria can quickly take over your pool water, that is why you need to stay ahead of the game.
The current range of robotic pool cleaners is extensive and always growing. It will be simple for you to find the right one for your budget and pool. They will work for all types of pools: in-ground, above-ground, concrete, vinyl, or fiberglass.
Our favorite robotic pool cleaner is the Dolphin brand by Maytronics.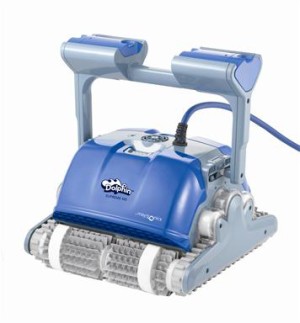 Not sure where to start? Contact a technician at Ask the Pool guy to get you started in finding the perfect robotic cleaner for your lifestyle!