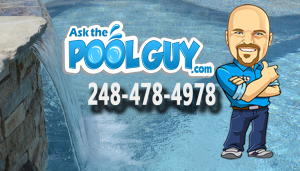 Ask the Pool Guy was created in 2012 by Al Curtis (the inspiration), and Sandi Maki (the marketing guru), through a series on synchronistic events.
Al had a knack for knowing swimming pools. Ever since his college days of his summer job with a local pool company, he lived, breathed, and dreamed swimming pools.
In 2004, Sandi joined the pool company and began working on the brand for the future. Her desire to be online (before it was cool), began to shape the message within the company for amazing online success.
Al and Sandi believed that the philosophy of the company should be a fun approach to pools. Sure, the summer hours are long and hard, but with fun at every turn, it keeps the energy going.
Customers began connecting on the website and cool photos of projects began showing up everywhere. It wasn't long before Al became the go to you in the local market, and online with answers to questions about just about everything swimming pool. Ask the Pool Guy was born.
Today the Pool Guy travels the country in search of great new product ideas and innovation. He blogs, does video, and live spreecasts for the pool loving public. His sidekick Sandi also makes sure they stay on track with the latest web content, and really cool apps (check out the pool guy app in the itunes Store).
The future of pools looks promising with the unique and custom one of a kind Legendary Escapes becoming a backyard common occurrence. The online reach of Ask the Pool Guy continues to grow, thanks to internet savvy customer like you.
Ask the Pool Guy and he will tell you the industry has come a long way since 1988, his early days in the business. He has exciting plans for the future and loves to bring exciting artistic innovation to you.
Explore the Pool Guy's world at Ask the Pool Guy.com and on an i device near you.
Ask the Pool Guy
The new standard in the industry for our team is Ask the Pool Guy approved. The information must be top notch, the products innovative, and the artistry at the top of the field.
The translation of swimming pools into works of art, and amazing back yard recreation are what drive the pool guy and his team.
Experience the magic yourself at AskThePoolGuy.com.