Pool companies nationwide are mentally preparing for this spring's pool opening season. After the winter we've had, it's safe to say there may be a fair amount of damage repair that will need to take place.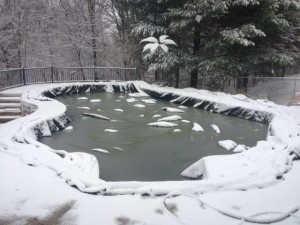 Did you have a pool cover over your pool that was, at one point this winter, completely invisible due to the heavy snowfall? These are issues we can expect to see as a result of all this winter's snow. Completely covered pool covers usually means there is a great deal of weight weighing down the cover; that can lead to cover tears and pool damage.
The snowfall this year in Michigan has been almost record breaking. Both Flint and Detroit were only inches away from breaking the previous 1880 snowfall record. All of this extreme weather doesn't come without a price. Unfortunately, many pool owners are going to need to delay their swimming season due to pool and equipment repairs. Be sure to check your pool or call a tech from Ask the Pool Guy to assess the damage.
"Having spring service for your pool is always recommended, but it's even more needed after a harsh winter like we just experienced," says Al Curtis from Ask the Pool Guy.
Much of this year's spring maintenance will be inspecting winter covers and winter damage. To get ahead of the game next winter, be sure to plan to replace any covers that suffered this past winter, and make notes of anything that affected the pool so you can prepare next fall to button things up to prevent issues!