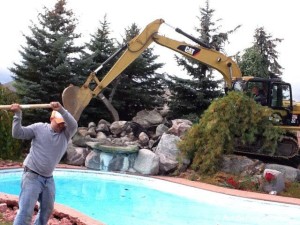 Swimming pools are a great addition to your home; but maybe yours has outstayed its welcome.
Are you considering removing your swimming pool? You're not alone. Thousands of homeowners all over the country plan to remove their pools in 2014. Many of these homeowners have wanted to remove their pool for some time, but kept putting it off. They have been keeping up with the maintenance expenses of their aging pool. Sound familiar?
If that's you, take a look at some factors to think about when deciding to remove your aging pool.
Pool Removal Cost
Every pool and every situation is different. Therefore, a specialist must take a visit to your home and review your swimming pool and backyard prior to supplying a proposal.
Some topics your local contractor will be concerned about are:
The degree of the pool removal- is it a full removal or a partial removal?
The size of your pool- the larger it is, the more the cost.
The style of your pool- is it above ground, below ground, and what material is it constructed out of?
Are there extra features to remove- do you have fences, gates, decks, slides, etc. that need to be removed as well?
The location of your pool- will it be easily accessed by large equipment?
The location of your home- this will determine how far the cleared materials and replacement fill dirt will have to be transported.
Total cost of city permits.
If you simply want a rough estimate before you make your decision, a best-case scenario partial demolition job would typically cost around $5,000. These charges could easily grow to $10,000 depending on the varying factors discussed above. A best-case scenario total demolition job would typically start off at $7,000. These expenses could vary depending on your pool's specific features- possibly adding up to $15,000 in certain conditions.
Again, contact a local specialist for a more accurate quote.
How Does the Pool Removal Process Work?
Prior to the actual pool removal, your contractor will need to obtain all of the mandatory licenses and permits. He will need to locate all the underground power wires and pipes, determine the property lines, and determine the right route for large machinery to access the pool.
Once that is completed, your contractor will close the electric power, water pipes, and fuel pipes to the pool area. They will need to be disconnected with respect to your communities policies.
Then your pool will be drained of all water. Typically this is a very standard course of action; however, some locations now have very specific rules for draining swimming pools. They might involve neutralizing the chlorine first or determining where the water can end up. Your contractor should be investigating these policies.
As soon as the water is drained, the demolition begins. The wall structures and bottom are demolished. Partial removals will remove the top parts of the structure and complete demolitions will remove all of the material.
All the materials such as cement and metal will be hauled away to a local recycling center.
The last step is adding the fill dirt. The fill elements are dumped into the remaining cavity. Once it's in place, the soil is graded and compacted. It is important that the compaction is performed correctly in order to avoid as much ground settling as possible.
Can I Do the Removal Myself?
NO. You might be tempted to quietly drain the pool water and fill in your aging pool with dirt, plant some foliage, and call it good. If you do this, you could have huge issues when trying to sell your home.
Most cities have strict policies regarding the way in which swimming pools have to be removed or covered up. They almost always call for unique permits and sometimes even require an inspection from the city. If you ever decide to sell your home, you will be required to reveal the old pool's location and any water feeds or power feeds buried in the surrounding area. Trust us, you do not want to be the owner of a non-permitted buried pool in your backyard.
What is the Next Step?
If you are one of the thousands of people across the country who are interested in having their pool removed, your first move should be to get a quote from a local specialist. This can help you determine if you wish to go forward with the process or not.
Extracting a pool can be quite the cost, but you will end up saving a lot of money each year on your water bill, electric bill, and insurance premiums and servicing. This may allow you to pay for the extraction costs in just a few years.
For removal in Michigan try Pool Busters LLC