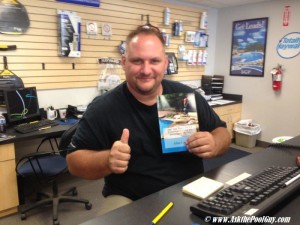 Do you love to be in the water? Are you the person who can't wait to open your pool as soon as it's remotely warm enough? Why not put your passion to good use and create a career around something you love.
Pool and Landscape Design
If you love being outdoors, love being in the garden, and have an interest in pool design or construction, landscape and pool design could be an ideal career move for you.
Working with a team is a good idea to help you accomplish your goals for a variety of clients. You will need some form of qualification in design or horticulture in order to successfully pursue this career path.
Pool Construction
Be hands-on with pool building and pool renovations with a career in pool construction. This job is the perfect combination of your interest in pools and your desire to be in a hands-on trade profession. Work on developing your knowledge of pool materials and construction to enable everyone to have the backyard and pool of their dreams.
Similarly to landscape design, pool construction is a great career path for those who are able and desire to work with a team. You will also need qualifications and training in construction and design, along with a Certificate IV in pool and spa building. Be sure to visit your local Master Builders Association or Swimming Pool & Spa Association for more information.
Pool Tech
If you like working with technology and all the gadgets for your pool, a pool technician might be the ideal career.
This career does not necessarily require any specific certification but having qualifications from an industry course might be beneficial. Having good people skills would be extremely helpful for this career choice as well. Pool technicians meet people from every kind of background and with unique homes.
The greatest part about this job is that you get to enjoy the beautiful fresh, outdoor air!
Swim Instructor
Do you love being in the water? For those who love swimming and enjoy working with others, becoming a swim instructor or coach could be a great option.
This job could be a hobby; something done on the side to help others feel safe in the water and to enjoy swimming as much as you. Or, this job could become a professional career choice if you decide to pursue competitive coaching. Who knows, you could coach someone all the way to the Olympics!
In order to become a swim instructor, you need to have a current first aid certificate and possibly complete water safety and/or principles of teaching course.
Swim School Manager
This career is a great combination of strong organizational skills and your love for water. If you enjoy working with people and would like to one day own a small business, look no further. A good way to start up a swim school is to gain experience in an existing swim school. If you are feeling adventurous, jump right in the water and create your own business!
This career might require qualifications in management and a current first aid certificate.
Pool Industry/Manufacturing and Supply
Consider a career in the pool industry in the support or distribution fields as well. As you can see in the photo, Dan gives the pool and spa industries a thumbs up!