Legendary Escapes is an authorized Kafko Dealer and has been installing Kafko Liners for over 25 years. Our team is experienced in the installation of most liner situations form the basic to much more complicated, including steps in the pool, rod pockets, loveseats, curved and freeform designs, sun-shelf, hybrid pools, and spas.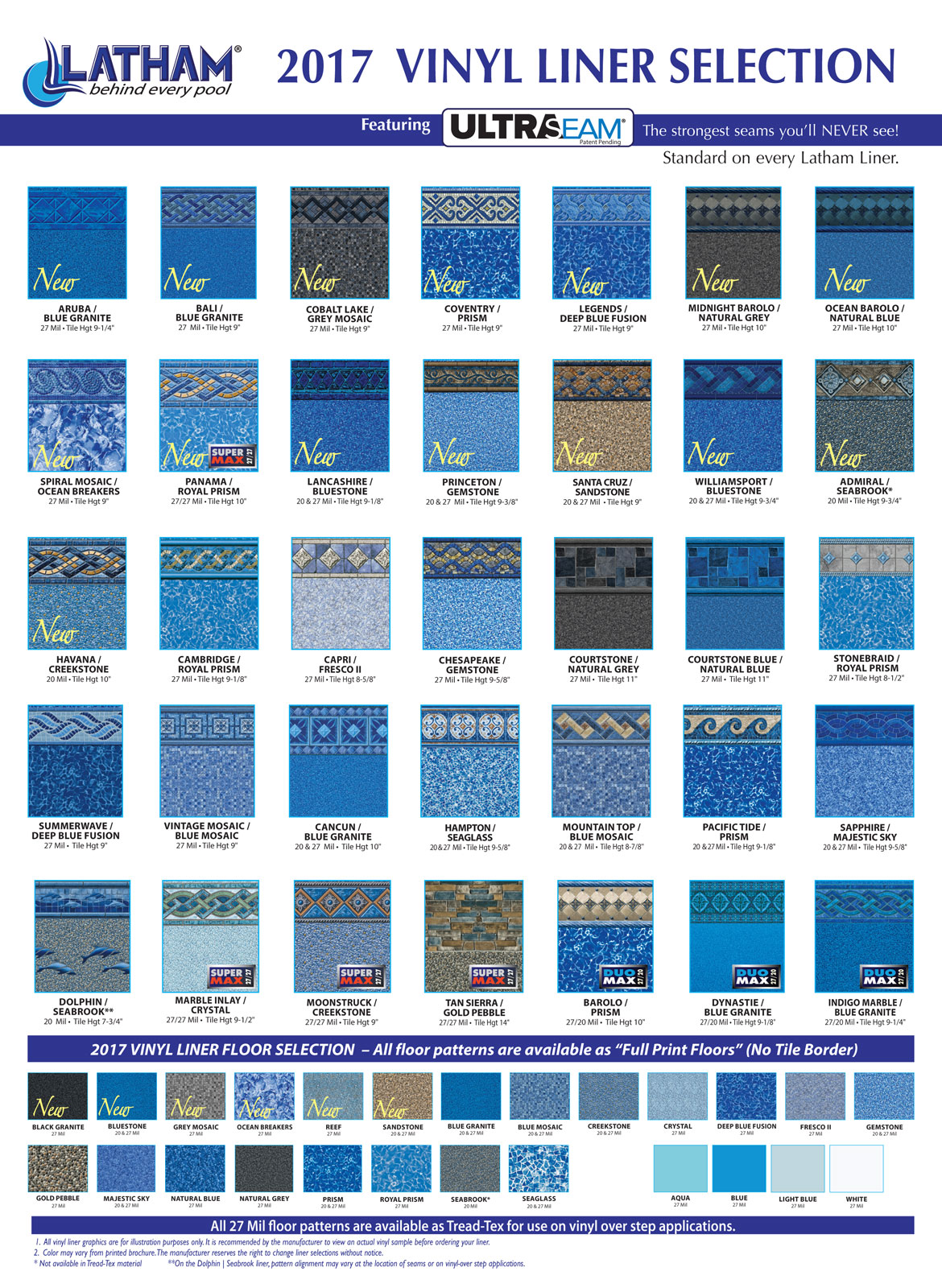 All Kafko prints are copyright and industrial patent design protected. Color of material may vary. Ask to see an actual sample. Seam lines are more visible on patterns that are printed on white base material. Certain patterns may be exclusive to geographic locations.
---
All vinyl liner graphics are for illustration purposes only. It is recommended by the manufacturer to view an actual vinyl sample before ordering your liner
Liner color may vary from on screen representation
The manufacturer reserves the right to change liner selections without notice
The Dolphin | Seabrook liner pattern allignment may vary at the location of seams or on vinyl-over step applications
Watch a Vinyl Liner Replacement from Start to Finish
Choosing a Vinyl Liner
Inside the Liner Manufacturer
How a liner is made
Photos
Liner Replacement, Farmington Hills, MI 2012 (Liner Chosen: Mountaintop/Blue Mosaic)
Liner Replacement Livonia, MI 2012 (Liner Chosen: Cambridge Tile/Prism by Kafko)
Liner Replacement Novi, MI 2011 (Deep End Love Seat, Shallow End Vinyl Covered Step) (Liner Chosen: Spanish Tile/Reef )
Meet Jacqui
Meet Jim
If we have recently completed your new in-ground vinyl liner pool, or a vinyl liner replacement, please use this link to register your liner for the Manufacturer's Warranty.
Brochure Downloads
Save
Save
Save